Yes, this is finally the post that I have been asked and asked to post of the pictures from my wedding last May. I have no good excuse, other than being busy and that my clients and their weddings come first!
I married the love of my life, Danny, on May 15, 2010. I could not have asked for a more amazing day - the weather was just perfect, and considering I planned an outdoor (not fully tented) reception, that was a good thing! Yes, I am a wedding planner and I planned a fully outdoor reception without a tent for my cocktail hour - and honestly, I just set my mind that it would not rain, and as luck would have it - it didn't! Amazing, since rain was predicted all week - whew!
I will say the hardest part about planning my own wedding was having to choose vendors. I am honored to know some of the best vendors in the wedding industry! How do you choose just one Florist, one Photographer, etc??
These cuties, Madeline and Mallory, are the daughters of Danny's oldest brother John and his wife Dee Dee. This was their first time as flower girls, and by the end of the year they were old pros - appearing in two family weddings in one year!

We had an afternoon ceremony at the Cathedral of St. John the Baptist in downtown Savannah. When I was a 10 year old Girl Scout visiting from Michigan - I went to mass at the Cathedral. I told my mom that I would get married in that church one day - little did I know, God heard me that day and I ended up living in Savannah and marrying a local boy! It has to be one of the most amazing and beautiful churches I have ever seen!

Heidi and Natalie, the owners of
A to Zinnias
florist, are not only amazing florists, but I am lucky to call them great friends! Having friends in good places allowed for me to have such beautiful details and flowers throughout my wedding.
Following the ceremony, the wedding party and guests hopped on a Trolley from
SweptAway Tours
and took our guests out to Danny's parents property overlooking the back river and marsh on Wilmington Island. While the wedding party stopped for pictures, guests enjoyed cocktail hour while listening to my favorite local singer,
Trae Gurley
!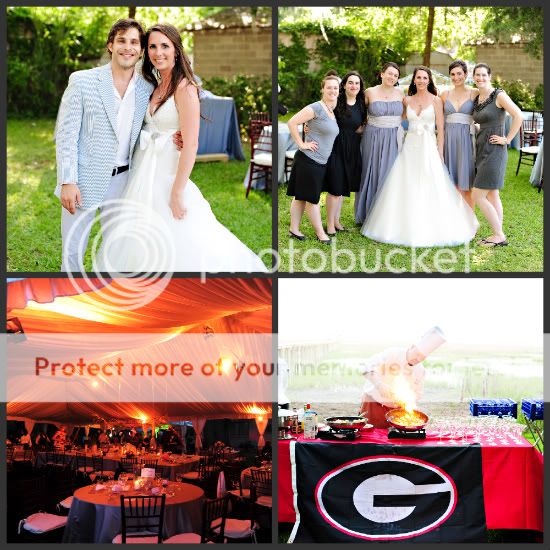 Following cocktails and hor d'oeuvres on the lawn, guests were shown to the back of the house, where an amazing tent from
Savannah Special Events
overlooked the Marsh! It was a stunning site; even more than I could have imagined. My colors, Gray and Blue - with hints of Pink, were taken from the beautiful natural backdrop and was inspired by Oyster Shells and the stunning view.
I loved all the candles, flowers and oyster shell place cards (hand made by my mom). One of Danny's groomsmen and a great friend made beer for our wedding, it was delish!
Chef Nick Mueller
went above and beyond for our wedding...from the hors d'oeuvers to the Filet Mignon and Grouper served for dinner - we are
still
receiving compliments on our menu! Nick and I also collaborated to surprise Danny with a Banana Fosters station in lieu of a groom's cake. It was hidden until dusk, when Nick's team quickly moved into action bringing out a table draped in red linen and Danny's University of Georgia flag. This was a great surprise - it really got everyone's attention - and Danny just loved the banana's foster groom's cake!
My AMAZING cake was the creation of
Minette Rushing's Custom Cakes!
Lead designer, Kerry O'Conner, created this beautiful and stunning cake based off my request for a gray cake. She took inspiration from my invitations, and I could not have been happier. I have also never seen cake disappear so quickly! Not a slice was left! YUM!
I could not have pulled off my wedding without my wonderful team of planners! Genina, Jackie and Meredith worked hard on my wedding day to make sure it was perfect - and it was!! I have a wonderful team of girls that work with me, and though two of them were in the wedding - I know they worked that day as well!
Here is a list of my wonderful Friends and Vendors who helped pull my wedding off:
Dress: Monique Lhuillier Swan Lake
Hair: Tre Wyrosdick
Make-up: Genevieve Routon, Salon 2010
Photographer:
DVB Photography
Florist:
A to Zinnias
Videographer:
Savannah Wedding Films
Ceremony Music: Violinist Ricardo Ochoa and Harpist Kristin King,
New Arts Ensembles
organist Patty Shreck and vocalist Andrea Dove
Cocktail Hour Music:
Trae Gurley
Catering:
Chef Nick Mueller
Bar Service: Whitemarsh Beverage
Cake:
Minette Rushing Custom Cakes
Rentals:
Savannah Special Events by Ranco
Transportation:
SweptAway Tours
Rehearsal Dinner: The Olde Pink House